The Moses Burning Bush Story

The Moses burning bush story happens after he fled Eygpt when he was forty, and after his marriage to Zipporah. It is now forty years later, so Moses is now eighty years old.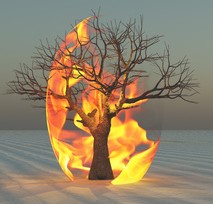 The full Moses burning bush story is found in Exodus 3:22 - 4:17

The abbreviated version is found in -

Acts 7:30-35 (King James Version)

30. And when forty years were expired, there appeared to him in the wilderness of mount Sina an angel of the Lord in a flame of fire in a bush.

31. When Moses saw it, he wondered at the sight: and as he drew near to behold it, the voice of the LORD came unto him,

32. Saying, I am the God of thy fathers, the God of Abraham, and the God of Isaac, and the God of Jacob. Then Moses trembled, and durst not behold.

33. Then said the Lord to him, Put off thy shoes from thy feet: for the place where thou standest is holy ground.

34. I have seen, I have seen the affliction of my people which is in Egypt, and I have heard their groaning, and am come down to deliver them. And now come, I will send thee into Egypt.

35. This Moses whom they refused, saying, Who made thee a ruler and a judge? the same did God send to be a ruler and a deliverer by the hand of the angel which appeared to him in the bush.

Click here to read the full story.



Click here for the 'Moses And The Burning Bush' word search puzzle...



Click here is you have a question, comment, or suggestion.


Famous Bible Verses Exodus
Birth of Moses | Moses In Egypt | Moses Wife