Moses The Exodus Hero

Moses is the Exodus hero. He was saved from death when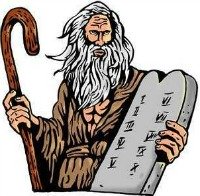 his mother hid him in a basket in the bulrushes.

God called him at the burning bush to bring the Israelites out of Egypt.

God sent him to tell Pharaoh to let his people go. However Pharaoh resisted and God sent the 10 plagues. Finally after the 10th plague Pharaoh said the Israelites could leave, and Moses led the Israelites out of Egypt.

The story of Moses parting the Red sea confirms him as the exodus hero.

Moses led the children through the wilderness for forty years, during which time God gave him the "ten commandments" and the pattern for the earthly tabernacle or sanctuary.

He also had to deal with the temperamental Israelites, and save them from God's wrath.


Moses obeyed and followed God, and is recognized in theses verses of faith found in -

Hebrews 11:23-29 (King James Version)

23. By faith Moses, when he was born, was hid three months of his parents, because they saw he was a proper child; and they were not afraid of the king's commandment.

24. By faith Moses, when he was come to years, refused to be called the son of Pharaoh's daughter;

25. Choosing rather to suffer affliction with the people of God, than to enjoy the pleasures of sin for a season;

26. Esteeming the reproach of Christ greater riches than the treasures in Egypt: for he had respect unto the recompence of the reward.

27. By faith he forsook Egypt, not fearing the wrath of the king: for he endured, as seeing him who is invisible.

28. Through faith he kept the passover, and the sprinkling of blood, lest he that destroyed the firstborn should touch them.

29. By faith they passed through the Red sea as by dry land: which the Egyptians assaying to do were drowned.




How Moses Became The Exodus Hero
Moses became the Exodus hero because he obeyed God and followed his instructions, and God gave him his hero status.


Exodus 11:3 (King James Version)

3. And the LORD gave the people favour in the sight of the Egyptians. Moreover the man Moses was very great in the land of Egypt, in the sight of Pharaoh's servants, and in the sight of the people.







---
If you appreciate this page please like it, thanks.

---




Click here if you have a question, comment, or suggestion.


Home Page | Famous Bible Verses - Exodus



Didn't find what you were looking for? Use this search box to find it.
Custom Search
.