Moses In The Ark
Free Bible Trivia Questions And Answers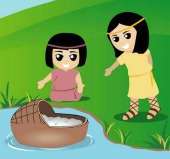 Moses In The Ark Free Bible trivia questions and answers that are interactive and printable.  Taken from Exodus 2:1-10 KJ'V

1. Of what house of Israel was Moses born into?
2. For how long did Moses' mother hide him?
3. What was the ark make of?
4. What was the ark covered with?
5. What was the ark laid among on the river?
6. Who watched Moses in the ark from afar off? ?
7. What person came down to wash at the river?
8. Who went to get the ark?
9. What was Moses doing when the ark was opened?
10. What type of woman did Moses' sister say she could call to nurse the baby?
Show me the answers!
Question 1: Levi Answer 4.
Question 2: 3 months Answer 1.
Question 3: Bulrushes Answer 3.
Question 4: Slime and Pitch Answer 2.
Question 5: FlagsAnswer 1.
Question 6: His sisterAnswer 3.
Question 7: Pharaoh's daughterAnswer 2.
Question 8: The maid Answer 3.
Question 9: CryingAnswer 1.
Question 10: A Hebrew Answer 4.
You answered them all right!
---
Moses In The Ark
Free Printable Bible Trivia

Click on the links for the Printable Bible Trivia Questions And Answers -
The Questions
and the
Answers
---
Click here to go to the Bible Trivia Questions main page...